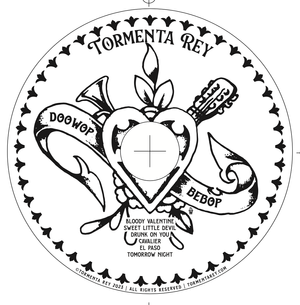 The 21st century duet, Tormenta Rey, tight ropes Swamp Blues and Jazz Noir. 
This avant-garde show hyper activates your eyes and ears with Stephen El Rey's songs and Leilainia (lay_lain_ya) LoveLight's  hypnotic trumpet and dance. 
El Rey's vocals capture the allure of early Hollywood crooners, the vulnerability of Roy Orbison, and the raw power of Howlin' Wolf. 
Like a David Lynch film, the juxtaposition between El Rey's dark ballads and the light of Leilainia's theatrical romance can feel familiar, but always carries with it a more complex undertow waiting to pull you in. 
Tormenta Rey consists of both original compositions and obscure songs from the 20's and 30's.
Tormenta Rey can be backed by a sextet, a full New Orleans style brass band, or a string quartet.  It can also be streamlined to the powerful vocals and guitar of Stephen El Rey as a soloist.

"We really loved your act.
Being an avid Tom Waits fan since highschool
I like the unusual, not the usual."
-Chuck aka Coffin Maker 
"A visual and audio treat that you are going to love!"
 - Scottie Blinn
"

Stephen El Rey's voice channeled the vulnerability of Roy Orbison, the sex of Elvis Presley, the raw power of Howlin' Wolf, or the insanity of Jerry Lee Lewis. Like Lynch's movies, Rey's music can feel familiar, but always carries with it a more complex undertow waiting to pull you in. " - - Clinton Ross Davis - THE TROUBADOUR