TORMENTA REY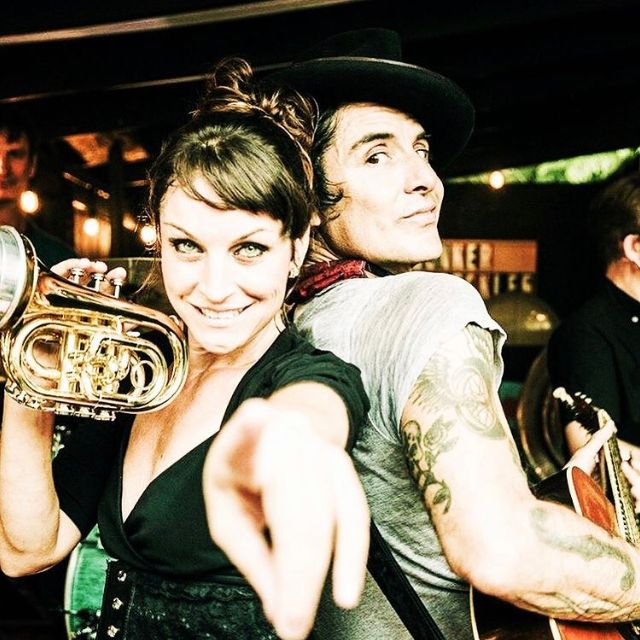 Stephen El Rey & Leilainia LoveLight
The 21st century duet, Tormenta Rey,  tight ropes Americana, Swamp Blues and Jazz Noir.
This avant-garde show hyper activates your eyes and ears with Stephen El Rey's songs and Leilainia (lay_lain_ya) LoveLight's hypnotic trumpet and dance.
El Rey's vocals capture the allure of early Hollywood crooners, the vulnerability of Roy Orbison, and the raw power of Howlin' Wolf.
Like a David Lynch film , the juxtaposition between El Rey's dark ballads and the light of Leilainia's theatrical romance can feel familiar, but always carries with it a more complex undertow waiting to pull you in.
Tormenta Rey consists of both original compositions and obscure songs from the 20's and 30's.
Music
0:00/7:00

0:00/5:55

0:00/5:23

0:00/4:26
TORMENTA REY 2021 Summer SHOWS :   
FRIDAY June 25  at Black Cat Bar 10PM   Opening Act Mara Kaye   
4246 University Avenue, San Diego, CA 92105  
SUNDAY June 27 The Vineyard 1924    3PM - 5PM  
1924 E. Mission Road, Fallbrook, California  
http://thevineyard1924.com/  
THURSDAY, July 1 Prohibition   
548 Fifth Ave, San Diego, CA 92101  
https://prohibitionsd.com/  
July 3 Ebullition with Low Voltz  5pm -10pm
Vista, CA
July 7 Kettner Exchange  7Pm - 10Pm 
San Diego, CA
FRIDAY, July 16 Golden Era Lounge  7PM - 9PM   
309 Broad St, Nevada City, CA 95959  
https://goldeneralounge.com/  
FRIDAY, July 23 Big Sur Fernwood  7:30 - 9:30PM   
47200 CA-1, Big Sur, CA 93920  
https://www.fernwoodbigsur.com/  
SUNDAY, July 25 The Vineyard 1924    3PM - 5PM  
1924 E. Mission Road, Fallbrook, California  
http://thevineyard1924.com/  
FRIDAY, July 30 The Vineyard 1924    3PM - 5PM  
1924 E. Mission Road, Fallbrook, California  
http://thevineyard1924.com/  
SATURDAY, July 31 Grand Ol' BBQ   5PM - 8PM  
Flinn Springs, El Cajon, CA   
https://flinnsprings.grandolebbq.com/